Name: Jon Brunson
Stats:
Specialty: Bowhunting Whitetails
Hometown: Brandon, FL
Greatest Love: My family & our love for the outdoors
Favorite Lethal Product(s): Field Spray & Activator
Jon grew up fishing, hunting and camping in a family that love's the outdoors. He got his start helping his family raise and train English Pointers, and by the time he was eight years old, a bow became his weapon of choice. Jon has taken many trophy animals all over the world but his passion is definitely big whitetails with many on his wall in the 160's and 170's.
Jon and Gina met 20 years ago, and it wasn't long before Gina's natural competitive spirit focused on big whitetails. She's taken several bucks that scored better than 150, including the new Kentucky state record whitetail by a woman that scored 180. Somehow the busy couple has found time to have six children. Both say that for them, the true value of the outdoors is not in the downed game, but in watching their children learn to enjoy the outdoors as they do.
2004 found Jon and Gina welcoming another newcomer to the family – JBO Production Inc., which quickly began winning many industry awards. Due to its success, JBO Production also began to create and produce other outdoor shows, such as American Huntress and Country Boys Outdoors (featuring Houston Rockets NBA center Brad Miller).
In 2007, Jon and Gina packed their six children into an RV for a Florida to South Dakota road trip and whitetail hunt. It was the first show for their newest venture, Addicted to the Outdoors (ATTO), which debuted top 10 on the Outdoor Channel and has a revolutionary format that takes viewers along with them as they pursue game.
Choosing a name for the new show was easy, since both Jon, Gina and their children are Addicted to the Outdoors
Addicted to the Outdoors revolutionary format was the starting point for Outhouse Entertainment. ATTO takes viewers along with Jon, Gina and occasionally the whole Brunson bunch as they pursue game around the world.
The techniques used behind the camera and in post-production, quickly created a loyal fan base in the outdoor entertainment community. Using only state of the art cameras and equipment, ATTO debuted as one of the top ten shows on the Outdoor Channel and continues to grow each year. Our team behind the show fully produces each episode, as well as being significantly involved in all stages of the hunt.
In the past few years, Addicted to the Outdoors has become a brand to the outdoor industry by creating a clothing line and securing a licensing agreement with Russell Outdoors. To fully engage and interact with their fans, Jon and Gina often travel around the country to make appearances at venues like Cabela's, Bass Pro Shops and L.L. Bean.
Addicted to the Outdoors has grown substantially in the past few years, and has even more in store for upcoming seasons.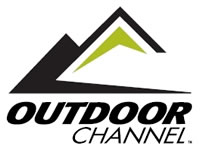 Outdoor Channel:
Sunday Night at 6PM EST
Thursday Morning at 11AM EST
and Thursday Night at 6PM EST
Wild TV (Canada)
Wednesday 10:30 PM EST
Tuesday 12:00 PM EST
Thursday 12:30 AM EST